ABIDJAN, Côte d'Ivoire 27 February 2022-/African Media Agency (AMA)/- Niyel, an international, impact-driven campaigns, advocacy and public affairs firm in Africa, has led a sanitation advocacy initiative since 2017 to persuade key decision makers from the national governments of Benin, Burkina Faso, Côte d'Ivoire, Mali and Senegal, to prioritise sanitation challenges and adopt inclusive policies to increase access to and use of on-site sanitation.
A year ago, Niyel launched Clap Sanitation in collaboration with Burkinabè director, Apolline TRAORÉ. The initiative provided 10 young filmmakers between 18 and 35 from Burkina Faso, Benin, Côte d'Ivoire, Gabon, Madagascar, Togo and Senegal, with financial support and guidance on the different stages of audiovisual production to produce a short documentary with the theme "Tell us your sanitation story" – using their art as an advocacy tool in favour of better sanitation for all.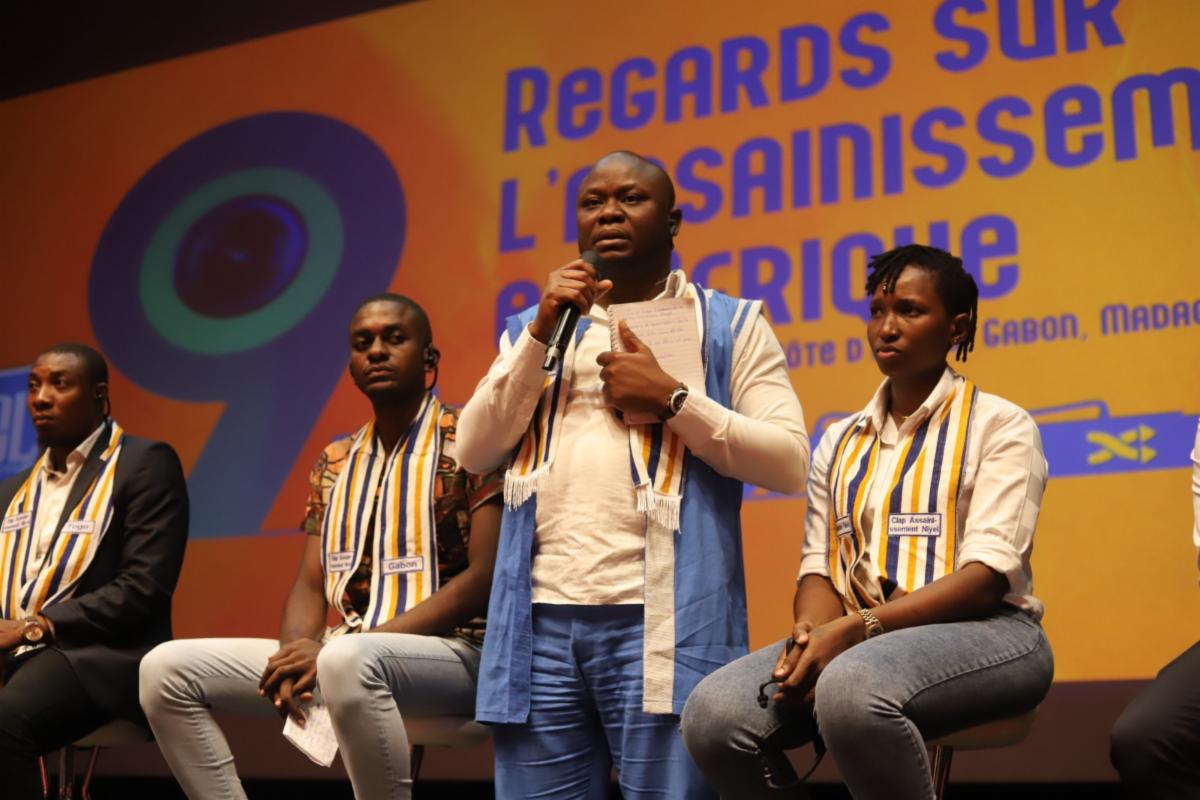 The 9 documentary films – produced by Niyel -were screened at the launch of the first FSMA (Fecal Sludge Management Alliance) short film festival on 21 February, 2023. The festival was part of the 21st International Congress and Exhibition of the African Water Association, and the 7th International Conference on Fecal Sludge Management that took place from 19-23 February, 2023.
The screening was followed by a panel discussion at the Sofitel Ivoire, Abidjan. The theme of the panel was 'What actions should decision-makers take to ensure safely managed sanitation in 2023-2024?' It was moderated by Dr. Azzika Tanko Yussif, Acting Director of Programmes at AMCOW – African Ministers Council on Water.
Yasmina Zongo, Senior Advocacy Officer at Niyel stated that the main purpose of the session was to bring the 9 Clap Sanitation Fellows face-to-face with decision-makers and representatives of national and international bodies to engage in a healthy and direct dialogue. "The premiere of the Clap Sanitation documentaries at the opening of the FSMA Film Festival would set the right tone by expressing the urgent need for decision-makers and stakeholders to engage in adequate management of sanitation as depicted through the documentary films presented. It is the focal point of this first edition of the festival, and an opportunity to strengthen the commitment of decision-makers."
"After 7 months of immersion into the world of sanitation, we are portraying the current reality of sanitation in our communities. From open defecation, through the lack of decent toilets in households, to the transport and management of sludge, as well as the difficulties encountered by all of us in the value chain. Our documentaries are tools for engagement and mobilisation to demand better sanitation policies from our leaders," said Fabien Meye, a film-maker from Gabon.
"We are proud of how the film-makers captured the reality of sanitation in their respective countries, and for embarking on this journey with Niyel to engage our leaders to drive real impact, and change, where it is so desperately needed," said Zongo.
Distributed by African Media Agency on behalf of Niyel.
About Niyel
Founded in 2008, Niyel is an international advocacy and campaigning firm based in Dakar, Senegal. It works to promote public policies that are conducive to the development of all people, and to influence practices to ensure that as citizens, individuals, and communities, we understand the social, political, and cultural issues that affect our daily lives.
Media Contact:
Létissia Konan