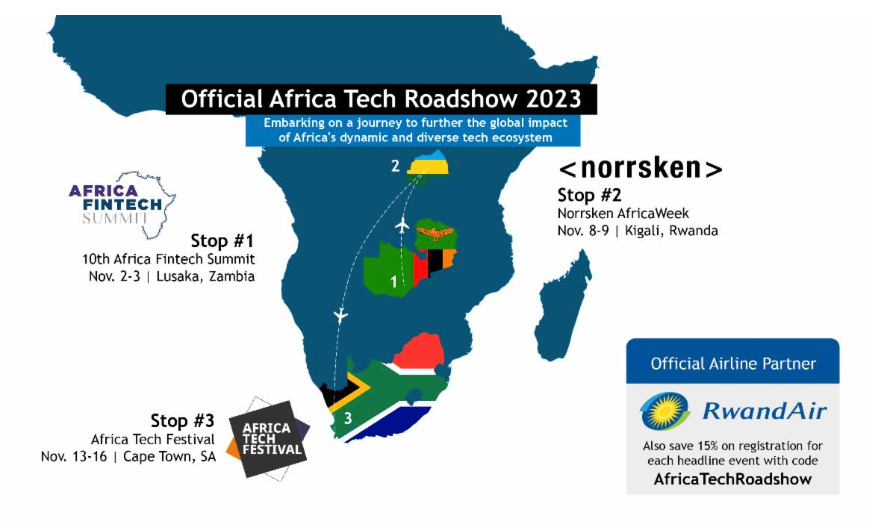 CAPE TOWN, South Africa, 30 August 2023 /African Media Agency (AMA)/- The Official Africa Tech Roadshow is thrilled to unveil the line-up of prestigious industry conferences this year, showcasing the remarkable strides being taken to foster collaboration, innovation and conversation across the Pan-African technology ecosystem. The 10th Africa Fintech Summit, Norrsken AfricaWeek 2023, and the 26th edition of Africa Tech Festival are all taking part in this year's Official Africa Tech Roadshow. 
Beginning in Lusaka, Zambia with the 10th Africa Fintech Summit, the roadshow will then journey to Kigali, Rwanda for the Norrsken AfricaWeek 2023, and will conclude with the Africa Tech Festival 2023 in Cape Town, South Africa, giving delegates the opportunity to transcend the borders holding back a truly Pan-African tech industry.
Many industry stakeholders and corporations spend lots of time and money attending various conferences and industry events; the Roadshow simplifies this and gives delegates the opportunity to make the most of their time and resources by unlocking savings on registration, accommodation, and airfare to any and all of the Roadshow's events while also publicly distinguishing this year's 'go-to' technology events in Africa.
The Africa Fintech Summit (November 2-3, 2023 in Lusaka, Zambia), now on its landmark 10th edition, is the largest bi-annual gathering of Africa's financial technology visionaries, regulators, investors, and other stakeholders. Over 700+ delegates will enjoy the opportunity to dive into Africa's largest tech sub-sector in a meaningful way, connect with decision makers in both the public and private spheres, and explore the many ways, people, and industries impacted by Africa's fintech ecosystem. The confluence that is AFTS will feature 14 engaging panel conversations, fireside chats with regulators, an exhibition of Africa's top fintechs, invite-only VIP Dinner, networking happy hours, Lusaka ecosystem tour, and conclude with the 6th AlphaExpo Pitch Competition where 15 startups from across the continent will pitch for the opportunity to win a prize.
Norrsken Africa Week (November 8–9, 2023 in Kigali, Rwanda) is where African tech meets global capital. We are bringing LPs, VCs and founders from all over the world, to celebrate African innovation and facilitate valuable connections between investors and startups. At NAW2023, we are inviting Africa's tech and startup ecosystem to Norrsken House Kigali, the largest startup hub on the continent, and home for connections and conversations that will power Africa's digital future. Whether you are looking to connect with leading LPs, VCs, founders or top tech talent, Norrsken Africa Week offers the opportunity to create new connections across Africa, Europe, the US and the Middle East in person.
Africa Tech Festival (November 13-16, Cape Town, South Africa) is the continent's largest, most influential tech event with a 26 year legacy. Our anchor events, AfricaCom, AfricaTech and AfricaIgnite celebrate Africa's vibrant tech scene and bring a passionate community of 15,000+ movers and shakers together to power the continent's digital transformation. Over 450 influential experts take to 12 stages of content to deep dive into topics such connectivity, digital infrastructure, pioneer tech, AI, cybersecurity, fintech, data centres and cloud and more. And thanks to a powerful start-up platform, our prestigious Awards ceremony celebrating Africa's leaders at the Luxurious Bay Hotel, and the iconic Afest, our official party and music festival in a new unique location for 2023. Africa Tech Festival delivers a perfect balance of business opportunities, future-focused content and buzzing festival fun.
These three premier events, collectively forming the Official Africa Tech Roadshow, represent a concerted effort to promote a unified and collaborative Pan-African technology industry. As the tech landscape continues to evolve, the importance of connecting minds, sharing insights, and fostering partnerships cannot be overstated. The Roadshow aims to create an environment where pioneers, investors, and enthusiasts alike can unite to share the future of African technology. 
ndividuals and organizations looking to take part in the 2023 Official Africa Tech Roadshow can unlock savings on registration for each participating event with the 15% discount code 'AfricaTechRoadshow'. Delegates can also unlock discounts on airfare through the roadshow's airline partner – RwandAir – the only airline directly serving all three destinations. Lastly, delegates can also save money on accommodation by visiting the websites of each participating event.
For more information about the Official Africa Tech Roadshow and its constituent events, please visit the Africa Fintech Summit, Norrsken AfricaWeek, and Africa Tech Festival websites.
Distributed by African Media Agency in partnership with Africa Fintech Summit.
About Africa Fintech Summit
About the Official Africa Tech Roadshow
The Official Africa Tech Roadshow is a pioneering initiative aimed at fostering collaboration, innovation, and growth within the African technology landscape. By bringing together top industry conferences and events, the Roadshow provides a platform for thought leaders, entrepreneurs, and investors to exchange ideas, share insights, and forge partnerships that contribute to the advancement of the Pan-African technology industry.
Media Contact
Charles Isidi
Head of Marketing and Communications
Africa Fintech Summit.