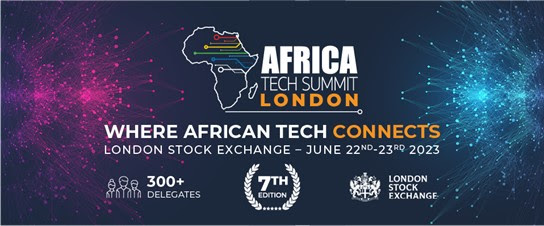 LONDON, England, 24 May 2023 -/African Media Agency(AMA)/- Africa Tech Summit London has announced 12 African tech ventures who will showcase investment opportunities to investors, corporates and industry experts at the London Stock Exchange on 23rd June.
The Africa Tech Summit Investment Showcase will feature innovative ventures from Nigeria, Kenya, Tanzania, South Africa, Egypt, and Zambia. The ventures are seeking to raise between $1mn to $15mn+ in funding across a range of sectors from investors and will feature;
Andrew Fassnidge, Managing Director of Africa Tech Summit shared: "Tech funding has slowed dramatically this year across the African tech ecosystem, so we are delighted to connect and showcase these leading ventures to international investors through this year's investment showcase at London Stock Exchange. We look forward to welcoming 300 delegates, to drive business and investment forward between Africa and Europe."
Shortlisted ventures will connect with potential investors, corporates and gain insights from industry experts at the seventh edition of Africa Tech Summit London on June 23rd at London Stock Exchange. Final passes for the Summit are available here.
Distributed by African Media Agency (AMA) on behalf of Africa Tech Summit.
About Africa Tech Summit
Africa Tech Summit (ATS) is a leading African tech conference series providing insight and networking with the African tech ecosystem in Nairobi, London and Ghana. ATSLDN is the 15th live summit from ATS and brings together tech leaders, MNO's, banks, international investors, entrepreneurs, governments, trade bodies, media and leading ventures to drive investment and business in African tech. Africa Tech Summit London
FOR MORE INFORMATION:
Email: register@africatechsummit.com
Website: www.africatechsummit.com
Twitter – AfricaTechSMT
LinkedIn – Africa Tech Summit
Facebook – Africa Tech Summit HQ
Instagram – @ats_hq
Images:
Media Contact:
Emily Okello
+254723449921